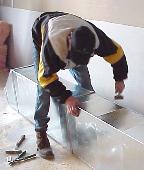 Welcome to CET Heating & Air Conditioning, Inc.



Our mission is to provide high quality, dependable and speedy service.
We offer full installation, routine systems maintinence and emergency service.






NEED A SERVICE CALL?
Try these TIPS first:



As uncanny as this may sound, check your fuse box first before making a call.
Flip the breaker switch to the off position and then back on. If you have an older fuse box, remove the fuse, check it, and if uncertain try replacing it.


Check the filter. Has it been replaced within 3 months since the last change?
This will often help with restricted air flow problems.


Check the electrical switch for your system (this is typically on a RED switchplate).
Is it flipped to the "on" position?

INSTALLATION



We provide FULL installation for both commercial and residential. We can replace and install systems in a pre-existing home or a new home under construction.



Please visit our quotes page to set up an appointment to review your specific needs and obtain an estimate.





© 2007 CET Heating & Air Conditioning, Inc.